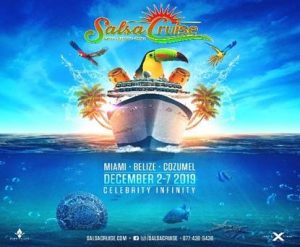 With Over 20 Years of Experience, Salsa Cruise is THE World's Premier Salsa Music Experience at Sea
 Miami, FL – (July 31, 2019) – Whet Travel, the leader in independent music cruise experiences, presents an unforgettable five-night showcase of Latin culture, dance, and fiesta with Salsa Cruise 2019. Sailing from the Port of Miami December 2-7 onboard the luxurious Celebrity Infinity, the event gives salsa enthusiasts and those looking to dance their days – and nights – away with an incredible lineup of renowned entertainers and programming, along with exotic stops in Belize and Cozumel, Mexico. Bookings can be made online now at www.SalsaCruise.com, with pricing starting at $749 per person for an indoor stateroom. Suites are also available that include luxury perks such as butler service, access to an exclusive restaurant, veranda tubs/rain showers, and more.
"Since our inaugural sailing in 1998, Salsa Cruise has become an iconic event within the worldwide salsa community," says Myrna Franceschis, founder of Salsa Cruise. "This event is perfect for people of all ages who are looking for a unique way to experience authentic Latin culture and make new friends who share their passion for salsa. We're excited to welcome back groups who have made cruising with us an annual tradition spanning generations. We are equally as excited to share this incredible, memorable getaway with newcomers and welcome them into the SalsaFam."
Salsa Cruise guests will have the opportunity to mix and mingle firsthand with some of the biggest names in salsa music, including La Sonora Ponceña, Grupo Galé, George Lamond, Ray Sepulveda, Don Perignon, Celeste "La Fiera," and many more. Extending the experience and going beyond the music with laugh out loud performances are top Latin comedians including Mark Viera, Joey Vega, and Sara Contreras. Guests can continue the party with a variety of other activities including domino tournaments, Zumba and salsa dancing classes, themed parties, DJ pop-ups, and more.
Celebrity Infinity offers exceptional service, luxurious accommodations, and culinary excellence at an array of restaurants that complement the Latin flair of the Salsa Cruise experience. The ship is perfect for sun worshippers with two outdoor pools, a gorgeous solarium, an outdoor retreat covered in cabanas, and a dockside dancefloor to salsa to the beat. Families of all ages will enjoy the Salsa Cruise with family-friendly entertainment, as well as the ship's Infinity's kids' club with an array of complimentary activities.
For more information, visit www.SalsaCruise.com or call 877-GET-WHET (877-438-9438). For the latest Salsa Cruise updates, become a fan on Facebook and follow the event on Instagram and Twitter.  For all Whet Travel news, follow on Instagram, Twitter, and Facebook.
About Whet Travel:
For the last 15 years, Whet Travel has curated and produced more half- and full-ship music cruises than any other independent company. Partnering with some of the cruise industry's most recognized and trusted brands, the revolutionary company has executed more than 50 wildly successful events including Groove Cruise, Motorboat, Zen Cruise, and Salsa Cruise, among others. Innovators since their launch in 2004, Whet Travel was named Inc. Magazine's #4 fastest-growing travel company in the country, has won the prestigious 'Charter Partner of the Year' award from Carnival and Norwegian Cruise Line, and has been featured in USA Today, Billboard, Forbes, and more. 
###
Media Contact:
Jamie Shalek/Victoria Stinson
954-716-7614, [email protected]
This message was sent to [email protected]
Hemsworth Communications
1510 SE 17th Street, Suite 200A
Fort Lauderdale, FL 33316