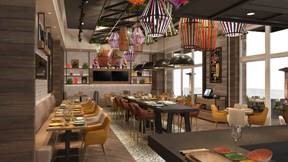 Frankfurt (September 3, 2019) – WorldHotels is proud to announce a new member in Peru, Casa Andina Premium San Isidro. Casa Andina Premium San Isidro will open in January 2020 in Lima and is WorldHotels' first hotel in Peru.
Casa Andina Premium San Isidro features 157 spacious non-smoking guest rooms distributed over 16 floors. Guests can relax in the gym, the spa, the swimming pool or on the rooftop terrace. The hotel features the on-site restaurant La Plaza Bar & Grill, which blends tradition with the best local ingredients in a modern ambience.
"It is a pleasure to welcome Casa Andina Premium San Isidro into the WorldHotels Collection. The Peruvian hotel chain Casa Andina stands for excellent service and creates authentic experiences that go beyond what the traveler expects. Casa Andina Premium San Isidro is a beautiful hotel which aligns perfectly with our brand values and provides travelers with inspiring experiences and personalized service. It is joining us at a very exciting time, on the heels of our new loyalty program unveil." says Geoff Andrew, CEO of WorldHotels.
"We are happy to close this alliance with WorldHotels as they represent global hospitality, which is one of our brand pillars at Casa Andina. This new alliance will allow us to show all our distinguished guests the impeccable proposal of our Casa Andina Premium San Isidro and that Peru is a destination that exceeds all expectations", says Juan Stoessel, CEO for Casa Andina Hotels. With this new hotel, the Casa Andina chain opens its 30th hotel in Peru.
WorldHotels currently offers 300 hotels in 200 destinations and 50 countries worldwide. Casa Andina Premium San Isidro is expanding WorldHotels' global footprint in Peru. This addition is part of the brand's strategy of further expansion in South America. "We haven't added a new hotel in South America for a while, as we carefully consider how we grow our portfolio. Our development strategy reflects WorldHotels' focus on quality over quantity," explains Geoff Andrew.
# # #
About WorldHotels Collection
Newly relaunched, the WorldHotels® Collection delivers proven soft brand solutions for a curated global offering of over 300 of the finest independent hotels and resorts. Founded by hoteliers dedicated to the art of hospitality, only WorldHotels curates the best independent properties around the globe, each reflective of the locale by offering intuitive service, and a refined sense of character. WorldHotels' proprietary 'Start with WHY' philosophy helps each hotel identify their unique set of assets that distinguish and elevate their guest experience and revenue generation performance from the competition. Geared to both business and leisure travelers, the WorldHotels Collection is classified into three tiers allowing guests to select the offering that meets their needs: WorldHotels Luxury, WorldHotels Elite and WorldHotels Distinctive.
Images are available from [email protected].
Media Contact
Samantha Jacobs/Lindsey Wiegmann
Hemsworth Communications
954.716.7614
[email protected]
This message was sent to [email protected]
Hemsworth Communications
1510 SE 17th Street, Suite 200A
Fort Lauderdale, FL 33316
Unsubscribe