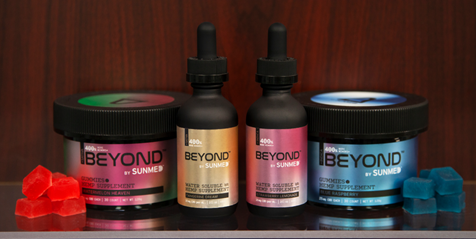 National CBD Retailer Utilizes Revolutionary New Inverse Extraction Process to Create BEYOND Line; Includes Drops, Gummies and More
PALMETTO, Fla. (June 22, 2021) – Your CBD Store®, the largest hemp retailer in the United States, has launched its most innovative portfolio of products yet with the official debut of its new BEYOND™ line. Now available exclusively at Your CBD Store locations across the country are an exciting variety of CBD soluble drops and gummies featuring 400% more minor cannabinoids than any other product currently available on the market.1 This new line is perfect for users seeking a more heightened experience. Starting at $602, BEYOND by SUNMED™ products feature an assortment of delicious flavors, such as Tangerine Dream and Strawberry Lemonade.
"Your CBD Store is committed to bringing new and innovative products safely to our customers on a consistent basis, and we're excited to introduce the new BEYOND line to hemp enthusiasts across the country, said Marcus Quinn, founder of Your CBD Store. "Our customers are at the heart of all product development, and we believe the BEYOND line fills a major void that has existed in the marketplace."
The BEYOND collection features sleek black packaging with electric bursts of color, making it easy to distinguish from other SUNMED CBD offerings. Each product will be available in a range of prices and potencies, including: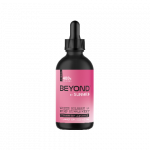 BEYOND Strawberry Lemonade Indica Soluble ($60; pictured left)) – Contains SUNMED indica proprietary fuller spectrum formula for a fast-acting delivery. Starting at 30mg of CBD per serving, this Indica formulation is more with soothing terpene profiles and relaxing minor cannabinoids. The soluble comes in a fruity strawberry lemonade flavor as a plant-rich hemp addition to any beverage. 
BEYOND Blue Raspberry Indica Gummies ($60; right) – SUNMED BEYOND Indica fuller spectrum gummies feature a burst of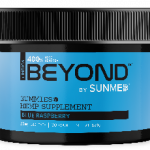 blue raspberry in a plant-rich bite-sized treat. BEYOND gummies start at 25mg per serving. This unique formulation of calming terpenes and minor cannabinoids contribute toward an overall tranquil experience.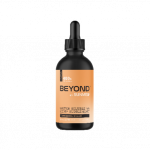 BEYOND Tangerine Dream Sativa Soluble ($60; left) – Contains SUNMED proprietary Sativa fuller spectrum formula for a quick and tasty delivery. At 30mg per serving, this formulation is packed with lively, uplifting terpenes and CBG extract to provide an entirely unique experience. This soluble can be added to any beverage to create a bright taste of tangerine flavor.
BEYOND Watermelon Heaven Sativa Gummies ($60; right) – SUNMED BEYOND sativa fuller spectrum gummies feature the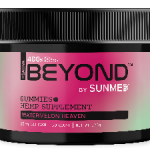 sweet taste of watermelon in a bite-sized snack. Packed with bright terpenes and filled with CBG extract, this formulation provides an uplifting experience.
"Our lab reports for this product indicate that the BEYOND line's formulations are unlike any other product due to our proprietary inverse extraction process, which we've worked tirelessly to develop," said Chief Science Officer for Your CBD Store, Tony Ferrari, Ph.D. "We're excited to offer profoundly different extracts in our Sativa and Indica options, both of which produce tailored stimulating or calming effects ideal for those who are unable to find relief from other CBD products."
Those 21+ who wish to purchase the new BEYOND products can visit their local Your CBD Store location. To find a Your CBD Store near you, visit www.cbdrx4u.com/find-us or shop from a select list of products available online at Sunflora.org. 
1Compared to our Full Spectrum Gummies.  For more info, visit cbdrx4u.com/lab-reports
2Please contact your local Your CBD Store location as offerings vary per location.
DISCLAIMER: Effect may be delayed for hours upon consumption. Do not drive or operate machinery after taking this supplement. Intended only for adults 21 and older and keep out of reach of children. Do not exceed suggested serving. This product is not intended to diagnose, treat, cure or prevent any diseases. These statements have not been evaluated by the Food and Drug Administration. THC found in this product may test positive on drug tests. Do not take if you are pregnant, nursing, have or suspect a medical condition, or are taking any medications.
# # #
Media Note: High-resolution images can be downloaded here.
About Your CBD Store
Your CBD Store is the largest hemp retailer in the United States and the exclusive home of award-winning, hemp derived SUNMED products. With more than 550 stores across 41 states, as well as four stores in the United Kingdom, Your CBD Store provides the highest quality CBD experience to customers nationwide. Its parent company, Sunflora Inc., produces quality products for health and wellness, skincare, and pets. For more information about Your CBD Store or to find a location, visit www.cbdrx4u.com. Follow Your CBD Store on their social media channels at Facebook, Twitter, Instagram and LinkedIn. For more information on franchising opportunities and opening a location near you visit www.cbdrx4u.com/franchise-info.
Media Contact:
Kayla Atwater/Jillian Mushman
954-716-7614 or [email protected]