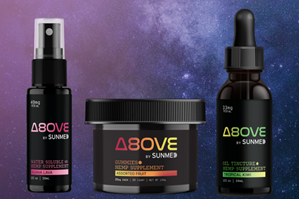 (Pictured above from left to right: water soluble spray, gummies and oil tincture)
Rapidly Expanding National CBD Retailer Now Offering Elevated Experience with New Delta-8 Product Line
Palmetto, Fla. (March 12, 2021) – The fastest-growing hemp retail franchise in the U.S., Your CBD Store, today announced the launch of its latest SUNMED product line, ABOVE, revolutionizing the already cutting-edge cannabis industry with an elevated experience. Created as a way to introduce Delta-8 within the current full spectrum extract lines to customers seeking an enhanced, stimulated experience, more than 550 franchise locations across the country can now offer ABOVE products. The initial launch includes three products: a water soluble spray, gummies and a tincture; products are available to those 21+.
"Since our launch in 2018, Your CBD Store has continued working diligently to bring new, innovative and cutting-edge products to our locations, providing our franchise owners with a constant stream of unique offerings that help them truly connect with their customers," said Rachael Quinn, founder of Your CBD Store. "This is the first of many revolutionizing products we will be introducing in 2021, as our brand grows and evolves."
Exclusive to Your CBD Store locations, the product line includes all-new black packaging with electric bursts of color, showcasing the distinction between ABOVE and SUNMED's CBD products. Each product will be available in a wide range of prices starting at $24 and potencies to suit customer desires. Delta-8 Water Soluble Spray (200mg or 1200mg) is a groundbreaking formula and concept to the CBD industry, which contains a water soluble Delta-8 formula that is delivered through a spritz on the tongue for a delicious guava taste. The line also includes Delta-8 Gummies (750mg), which provides a fruity assortment of the plant-rich hemp experience and delivers a slow action release over time. Additionally, customers can select the Delta-8 Tincture (1000mg) featuring a tropical kiwi flavor that is dropped under the tongue for an explosive fruity flavor.
Delta-8 binds to the CB1 receptors in the body's endocannabinoid system to deliver a gentle body high. This product line combines Delta-8 with the robust cannabinoid profile in our full spectrum extract that delivers highly desired results.
The ABOVE line is the latest development introduced to Your CBD Store, which has made unprecedented growth starting from one location in Bradenton, Florida in 2018 to more than 550 retail locations across the country. The franchise brand was founded by husband-and-wife duo, Marcus and Rachael Quinn, who are focused on educating customers about holistic cannabinoid uses and enabling everyone to create a tailored regimen that empowers them to select ideal products to support their needs. Within the first two years, the company began licensing its name and products to affiliates across the country and switched to a franchising business model in summer 2020 to allow franchisees to build upon the company's success.
For more information on Your CBD Store franchising opportunities and opening a location near you visit www.cbdrx4u.com/franchise-info.
Media Note: High-resolution images can be downloaded here.
About Your CBD Store
Your CBD Store is the largest hemp retailer in the United States and the exclusive home of award-winning, hemp derived SUNMED products. With more than 550 stores across 41 states, as well as four stores in the United Kingdom, Your CBD Store provides the highest quality CBD experience to customers nationwide. Its parent company, Sunflora Inc., produces quality products for health and wellness, skincare, and pets. For more information about Your CBD Store or to find a location, visit www.cbdrx4u.com. Follow Your CBD Store on their social media channels at Facebook, Twitter, Instagram and LinkedIn. For more information on franchising opportunities and opening a location near you visit www.cbdrx4u.com/franchise-info.
###
Media Contact:
Rachel Tabacnic/ Paige Alonso
954-716-7614 or [email protected]
DISCLAIMER: May cause psychoactive effect. Effect may be delayed for hours upon consumption. Do not drive or operate machinery after taking this supplement. Intended only for adults 21 and older and keep out of reach of children. Do not exceed suggested serving. This product is not intended to diagnose, treat, cure or prevent any diseases. These statements have not been evaluated by the Food and Drug Administration. THC found in this product may test positive on drug tests. Do not take if you are pregnant, nursing, have or suspect a medical condition, or are taking any medications.
This message was sent to [email protected].
Hemsworth Communications
1510 SE 17th Street, Suite 200A
Fort Lauderdale, FL 33316