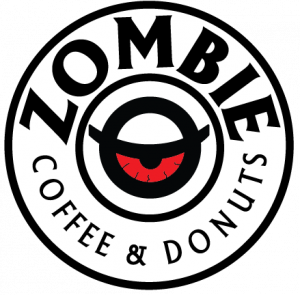 Local Coffee Café and Eatery Unveils Seasonal Themed Donuts,
Tailgate Packages and a Special Offer to Honor All Teachers 
Athens, Ga. – (September 23, 2020) – In celebration of the spookiest season of the year, Zombie Coffee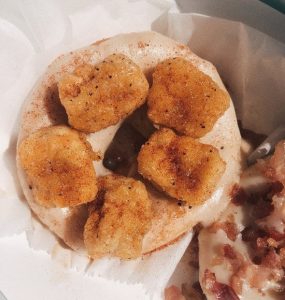 and Donuts in Athens today announced its line-up of new fall specials.  Open daily for pick-up, delivery and limited dine-in, the neighborhood coffee shop and café is inviting students, teachers, football fans and the Athens community to enjoy new themed donuts, special offers and seasonal packages. 
Fall-ing Into the Season with Monthly Themed Donuts
Zombie Athens is kicking off the fall semester with monthly specialty donuts inspired by signature autumn flavors and spices, including: 
September: "Chicken & Waffles" (pictured right) – vanilla donut with maple icing, topped with chicken nuggets, cinnamon and maple syrup

Beverage Pairing: Iced Latte

October: "Sour Patch Kids" – vanilla donut with strawberry icing and lemon juice, topped with rainbow sprinkles and sour patch kids

Beverage Pairing: Vanilla Latte

November: "Breakfast Lover's Donut" – glazed vanilla donut with strawberry jam, topped with bacon and sausage crumbs

Beverage Pairing: Cappuccino

December: "Golden Turmeric" – vanilla donut with vanilla turmeric icing, topped with pecans

Beverage Pairing: Caramel Macchiato 
Zombie Coffee and Donuts tapped into its enthusiastic team to come up with the season's creatively themed offerings. In addition, the coffee shop will serve specialty drinks that are sure to warm customers up in the cooler days ahead, including a new pumpkin spice latte in October and a peppermint mocha in December. 
Tail-Great Packages
With the start of a new school year comes the start of football season – finally! Whether watching the game at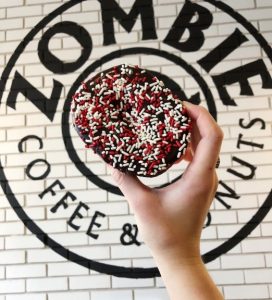 home or hosting a small socially distanced gathering, Zombie's tailgate packages are perfect for cheering on the Dawgs. Football fans can purchase:
One dozen assorted donuts for $16
Small group package with two dozen assorted donuts and one 96-ounce box of coffee (hot or iced) for $45
Large group package with four dozen assorted donuts and two 96-ounce boxes of coffee (hot or iced) for $85 
These packages can include any personalized selection of donuts, including the featured Donuts of the Month. Festive UGA-themed donuts
(pictured right) are also available. 
It's No Trick – Teachers, Treat Yourselves!
As a small business centered around giving back, Zombie Coffee and Donuts will host a "Teacher Appreciation Day" on Tuesday, October 5, to honor Athens' local community of educators. Those presenting a valid teacher ID will each receive a complimentary donut with purchase of a coffee drink. This sweet gesture will thank those who are rising to the unique challenge of inspiring and teaching their students in new ways during this unprecedented time. 
"While many things have changed going into this semester, University of Georgia's school spirit is as strong as ever," said Tony Raffa, founder of Zombie Coffee & Donuts. "We are excited to embrace the season with some fun, creative new offerings and most importantly, we remain committed to giving back through our Zombie Gives Back program and rewarding Athens' teaching community." 
Raffa founded Zombie Coffee and Donuts in 2016 as a University of Georgia business student with the mission to serve delicious made-to-order donuts and hand-crafted coffee while creating an impact in the community. Created as a social enterprise to be a catalyst for positive change, Zombie's unique business model offers opportunities for local non-profits to fundraise and Raffa consistently seeks new ways to give back to each store's local community.  
This month's featured charities include Project Safe Inc., Free I.T. Athens and Active Minds UGA. 
For more information, visit EatZombieDonuts.com. Stay up-to-date on the latest Zombie news by following @ZombieCoffeeandDonuts on Instagram or by liking the brand on Facebook at https://www.facebook.com/eatzombieathens/. 
About Zombie Coffee and Donuts
Founded in 2016 by University of Georgia business student Tony Raffa and with locations in Athens, Ga., and Columbia, S.C., Zombie Coffee and Donuts serves delicious custom-made donuts and hand-crafted coffee.  The Zombie menu features signature donut flavors such as maple bacon, lemon coconut and strawberry fruity pebble. Guests can also build their own donut using a vanilla or chocolate base and adding a variety of toppings and coatings, including cinnamon sugar, M&Ms, rainbow sprinkles and many more.  Hot or cold coffee, chai lattes, hot chocolate, teas and many more caffeinated beverages are available. The Athens store is located in the heart of Downtown at 350 E Broad St. The hours of operation for pick-up, delivery and dine-in are 7 AM to 8 PM Monday through Wednesday; 7 AM to 10 PM Thursday through Friday; 8 AM through 10 PM on Saturday; and 8 AM to 5 PM on Sunday.
###
Media Contact:
Lacey Outten / Julie Hong
Hemsworth Communications
678.631.9974 or [email protected]
Hemsworth Communications
1510 SE 17th Street, Suite 200A
Fort Lauderdale, FL 33316