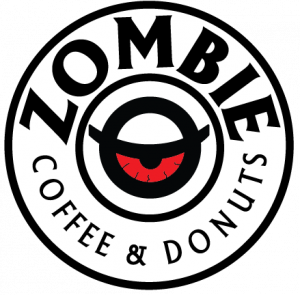 Athens' Favorite Coffee Café and Eatery Unveils At-Home Donut Making Kit,
Special Programming in Honor of Anniversary 
Athens, Ga. – (Thursday, May 14, 2020) – In celebration of its four year anniversary in Athens this month,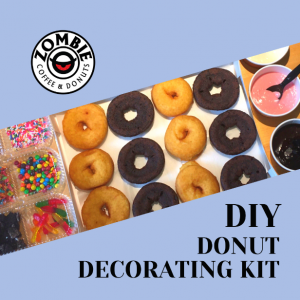 Zombie Coffee and Donuts today introduced its Do-It-Yourself (DIY) Donut Decorating Kit as a new way for Zombie fans to personalize their favorite tasty treats at home. In addition, the local donut and coffee shop announced exclusive offers valid on its official anniversary date, Saturday, May 23. 
Created as a fun and delicious activity for both kids and adults, the DIY Donut Decorating Kit is available for in-store pick-up and delivery. The kit is $30 and includes the following items, which can be mixed and matched to create endless flavor combinations: 
12 Donuts (Vanilla and/or Chocolate)
Three Icings (Vanilla, Chocolate and Strawberry)
Six Toppings (Plain and Assorted Sprinkles, Gummy Worms, Fruity Pebbles, M&Ms and Crushed Oreo Cookies)  
On May 23, guests are invited to enjoy a free box of gourmet coffee with purchase of the DIY Donut Decorating Kit. In addition, guests may enjoy $4 off purchases of one dozen donuts, a nod to the location's fourth anniversary date. 
"We are beyond grateful for the support of the Athens community over the last four years," said Tony Raffa, founder of Zombie Coffee and Donuts. "Creativity and personalization are a core part of our product, so we are very enthusiastic about the new DIY Donut Decorating Kit for an at-home Zombie experience. We hope these new offers will serve as a way to thank the community for their support during the last four years and especially over the past two months, during some difficult times for us all." 
Since opening in 2016, Zombie Coffee and Donuts has been committed to its philanthropic mission to support local charitable organizations. Each month, Zombie selects three local groups. Guests are encouraged to vote for their favorite organization upon check-out. Then, the organization with the most votes receives a donation from Zombie totaling 5 percent of net proceeds from the month. 
"The Zombie Gives Back Program has been a central part of our business model since its inception," continued Raffa. "We believe it is our social responsibility to lift each other up and strongly value the importance of a tight knit, supportive community." 
This month's featured charities include Saving Mothers at UGA, Shop With A Bulldawg (SWAB) and Athens PRIDE. In addition, on Memorial Day, Monday, May 25, all active military and veterans are invited to enjoy one complimentary donut as a small token of Zombie's gratitude for their service. 
Zombie Coffee and Donuts is currently open for curbside pick-up and delivery Monday through Thursday from 8 a.m. to 5 p.m., on Friday and Saturday from 8 a.m. to 8 p.m. and on Sunday from 8 a.m. to 3 p.m. 
For more information, visit EatZombieDonuts.com. Stay up-to-date on the latest Zombie news by following @ZombieCoffeeandDonuts on Instagram or by liking the brand on Facebook at https://www.facebook.com/eatzombieathens/.
About Zombie Coffee and Donuts
Founded in 2016 by University of Georgia business student Tony Raffa and with locations in Athens, Ga., and Columbia, S.C., Zombie Coffee and Donuts serves delicious custom-made donuts and hand-crafted coffee.  The Zombie menu features signature donut flavors such as maple bacon, lemon coconut and strawberry fruity pebble. Guests can also build their own donut using a vanilla or chocolate base and adding a variety of toppings and coatings, including cinnamon sugar, M&Ms, rainbow sprinkles and many more.  Hot or cold coffee, chai lattes, hot chocolate, teas and many more caffeinated beverages are available. The Athens store is located in the heart of Downtown at 350 E Broad St. Delivery is available through UberEats, GrubHub and Bulldawg Food.
###
Media Contact:
Julie Hong, Hemsworth Communications
678.631.9974 or [email protected]
This message was sent to [email protected]
Hemsworth Communications
1011 E. Las Olas Blvd.
Fort Lauderdale, FL 33301