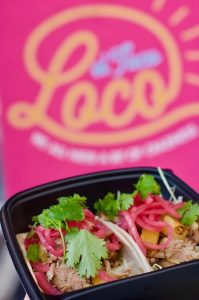 Food-Forward City Welcomes El Taco Loco, Serving Up Modern Mexican Cuisine with Elevated Delivery Experience
MIAMI, FL – (August 12, 2019) – The Local Culinary, a recently launched innovative virtual restaurant concept, today announced the official debut of el Taco Loco.  As one of South Florida's first chef-driven delivery-only restaurants, el Taco Loco is serving both classic and playful interpretations of authentic Mexican fare.  The menu incorporates unique, high-quality ingredients, such as truffle cheese and seaweed, in its more contemporary dishes, while also featuring "Old School" tacos with fresh and flavorful components.
"Inspired by Mexico's famous street food, el Taco Loco is bringing bright, crave-able tacos to downtown Miami," said Alp Franko, founder of The Local Culinary, which operates el Taco Loco. "We set out to create an amazing delivery experience with this cutting-edge concept, and tacos are truly unlike any others in the market. We are offering delicious food that is easily transportable and great for lunch, dinner or a snack."
One of the newest "virtual restaurants" on the scene, operated out of The Local Culinary's innovative commissary-style dark kitchen in Downtown Miami, el Taco Loco's offerings are strictly available via delivery apps, including Postmates, DoorDash, UberEats and Grubhub. Entrees range from $7.50 to $14.95, and provide locals with new and exciting twists on the classic tacos. Popular options include the following:
The signature carne asada tacos have instantly become a best-seller, featuring a blend of prime steak with fresh cilantro, lime, white onion and queso fresco ($9.00).
The "Made in Tulum" tacos boast a luxurious flavor combination of truffle with swiss cheese and steak ($14.95).
Seafood-enthusiasts can try the blackened shrimp tacos filled with Asian slaw, cilantro garlic sauce, sesame seeds, seaweed and lime ($9.50). 
"The Gold Chicken" tacos are truly one-of-a-kind, with crispy chicken, tomato salsa, guacamole and a touch of edible gold leaf for added decadence.
To complement its taco menu, el Taco Loco features house-made salsa, guacamole and "secret sauce" alongside Mexican sodas made with cane sugar. In a fun twist and aiming to "bring a craziness" to an elevated delivery experience, el Taco Loco is quickly becoming known for fun branding, playful stickers, and surprises like Mexican candy and maracas.  For Loco loyalists, el Taco Loco merchandise is also available for purchase on Postmates, UberEats, DoorDash and Grubhub.
To order, visit Postmates, UberEats, DoorDash and GrubHub online or via the app. To stay in the loop on el Taco Loco news, follow the restaurant on Instagram and Facebook at @elTacoLocoMiami.
About el Taco Loco
Operated by The Local Culinary, an innovative virtual restaurant with a commissary-style kitchen hub in Downtown Miami, el Taco Loco is one of South Florida's first-ever delivery only restaurants, introducing unique tacos and a touch of craziness. With a menu of both classic and unique tacos, fresh guacamole, homemade sauces and more, el Taco Loco provides patrons with an elevated delivery experience available via Postmates, UberEats, DoorDash and GrubHub, including fun surprises along with each order. El Taco Loco currently serves Miami seven days a week from 11 a.m. to 11 p.m.
###
Media Contacts:
Hemsworth Communications
Lacey Outten / Courtney Merolle 
954-716-7614 or [email protected]  
This message was sent to [email protected].
Hemsworth Communications
1510 SE 17th Street, Suite 200A
Fort Lauderdale, FL 33316