Fast-Casual Concept Launches New Menu Item on July 14, Hosts Raffle Contest at
All Locations – Guests Could Win Free Mac & Cheese for One Year!
Boca Raton, Fla. – (July 9, 2019) – I Heart Mac & Cheese is going all out for National Mac & Cheese Day on July 14, launching a fun new way to enjoy everyone's favorite comfort food. The fast-casual concept that specializes in customizable, made-to-order macaroni and cheese bowls and grilled cheese sandwiches, is introducing Mac Bites. The newest menu item is an easy-to-eat treat, available at all locations. Adding to the excitement of the most anticipated food holiday of the year, each I Heart Mac & Cheese location will thank its guests with a raffle drawing.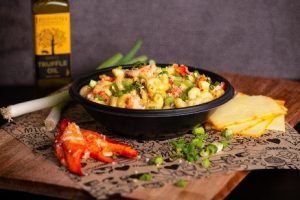 Mac Bites will debut with options like Bacon Cheeseburger, Buffalo Chicken, The Cuban, Lobster and Classic. The baked, bite-size portion is $5.95 for 6 pieces and is perfect for little hands or those on the go. Known for its seemingly limitless mac and cheese flavor combinations, I Heart Mac & Cheese features a menu for all ages, lifestyles and cravings by offering a variety of health-conscious options including quinoa, broccoli, cauliflower, and gluten free pasta.
"The inspiration behind Mac Bites was creating a fun new way to serve up our classic mac and cheese, and to put a twist on our most popular chef specials," said Stephen Giordanella, CEO and Chairman of I Heart Mac & Cheese. "Our vision for the concept has always been to cater to families, students and professionals – many of whom are constantly on-the-go – offering a quick and convenient, yet satisfying, option. We couldn't imagine a better day to roll out our Mac Bites than National Mac & Cheese Day!"
In addition to unveiling the new Mac Bites, I Heart Mac & Cheese will thank its customers for their loyalty throughout the day on July 14, with a raffle drawing at every location. Guests will receive one raffle entry for every $10 spent on food and drink purchases and could win one of three prizes that include a 50" flat screen television, free mac and cheese for one year, and a Nintendo Switch™. Drawings will be held July 15 and winners will be notified via phone or email no later than July 19.
For more information on I Heart Mac & Cheese visit iheartmacandcheese.com, follow on Facebook at facebook.com/iheartmacandcheese/ and on Instagram at @IHeartMacAndCheese.
About I Heart Mac & Cheese
I Heart Mac & Cheese is a fast-casual concept specializing in customizable, made-to-order macaroni and cheese bowls, grilled cheese sandwiches and salads. Also, on the menu are lifestyle choices with quinoa, broccoli or cauliflower bowls, as well as gluten-free pasta. The menu combines award-winning recipes resulting in a grown-up approach to this classic childhood dish. The first location opened in 2016 in Fort Lauderdale. Other South Florida locations include Pembroke Pines, Jupiter, Coral Springs and Boca Raton. Additional locations are slated to open in Texas, New York, Florida and Georgia over the next few months. In 2017, the company launched its franchising program nationwide and has franchisee locations in Florida and New York.
Media Contacts:
Hemsworth Communications
Lacey Outten / Courtney Merolle
561-441-9692 or [email protected]
This message was sent to [email protected].
Hemsworth Communications
1510 SE 17th Street, Suite 200A
Fort Lauderdale, FL 33316