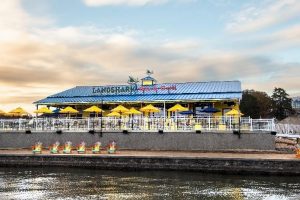 Osage Beach Has a New, Laid-Back Lakeside Dining Destination  with Indoor/Outdoor Seating, Swim-Up Pool Bar, Sand Beach Area and More
Osage Beach, Mo. – April 4, 2019 – The new Margaritaville Lake Resort, Lake of the Ozarks – which is expected to officially complete its transformation and rebranding on May 1 – today announced that its new flagship waterfront restaurant, LandShark Bar & Grill, is open to the public for business. The signature Margaritaville dining concept gives locals, boaters and resort guests a unique setting to enjoy a one-of-a-kind experience with panoramic lake views.
"We are thrilled to celebrate the opening of LandShark Bar & Grill and excited to move one step closer to the finalization of our Margaritaville rebranding," said Fred Dehner, the resort's general manager. "LandShark combines the very best elements of the Margaritaville lifestyle with our laid-back lakeside vibe, creating a really special, memorable dining experience.  This is a terrific spot for our resort guests to kick back and relax, and for local residents to stop by for a great meal."
Inspired by the traditional beach bars of the Atlantic Coast, LandShark Bar & Grill is located on the resort property at 494 Tan Tar A Drive in Osage Beach, Mo. The restaurant seats up to 250 guests and will be open Friday – Sunday now through May 23, then seven days a week for the summer season, serving up the perfect mix of quality food and refreshing drinks. With a diverse menu featuring classics like fish tacos, nachos, wings, crisp salads, and signature LandShark burgers — there's something that will appeal to every appetite.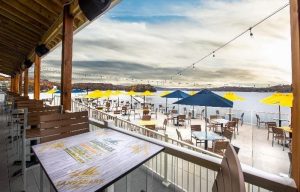 Diners can also sip on a LandShark Lager or enjoy a specialty cocktail in a souvenir blender cup as they enjoy a full bar along with indoor and outdoor seating. Those looking to enjoy the stunning lake views with their meal can sit on the outdoor deck or take a dip in the LandShark pool, complete with a swim-up bar. In addition, the sand beach area provides the perfect spot for family and friends to chill in an Adirondack chair pre- or post-meal.
Margaritaville Lake Resort, Lake of the Ozarks recently       launched         their     new     website,
MargaritavilleResortLakeoftheOzarks.com, where all reservations can be made. The resort is also putting the finishing touches on its transition, with renovations wrapping up in the lobby area, bowling alley, arcade and more.
For reservations or more information, please visit MargaritavilleResortLakeoftheOzarks.com.
About Margaritaville Lake Resort, Lake of the Ozarks
Located along the peaceful shores of the Lake of the Ozarks in Osage Beach, Mo., Margaritaville Lake Resort, Lake of the Ozarks is a 494-room scenic retreat reflecting the fun and escapism of the Margaritaville lifestyle. Slated to complete renovations in spring 2019, this perfect lakeside escape will transport guests into a vacation state of mind, blending Margaritaville's authentic "no worries" vibe with the area's lake lifestyle. The resort features multiple diverse restaurant concepts, a full-service spa and salon, a fitness center, horseback riding, bowling, an arcade, three outdoor pool complexes and a 20,000 square-foot indoor water park. A premier destination for corporate meetings, incentive retreats, social functions and weddings, the resort is home to more than 89,000 square feet of flexible indoor event space, as well as several outdoor venues. Once complete, the resort will officially be a part of Margaritaville's growing collection of hotels and resorts. Today, the global lifestyle brand features 17 lodging locations with more than 20 additional projects in the pipeline.
 # # #
Media Contacts:
Hemsworth Communications
Carter Long / Hilari Barton
(678) 631-9974 or [email protected]
This message was sent to [email protected]
Hemsworth Communications
1510 SE 17th Street, Suite 200A
Fort Lauderdale, FL 33316
 Unsubscribe