Renovations Underway for the Brand's First Lake Resort to Open in Spring 2019
 Osage Beach, Mo. – October 11, 2018 – New details were revealed today surrounding the introduction of a Margaritaville Resort to the shores of Lake of the Ozarks in Osage Beach, Mo. This new lakeside retreat, the first of its kind for Margaritaville, will feature renovated guestrooms, an exterior refresh and several new dining concepts. Upon completion of a phased renovation program in spring 2019, the property will be named Margaritaville Lake Resort, Lake of the Ozarks.
 "Margaritaville's relaxing, laid-back vibe fits in perfectly here at Lake of the Ozarks and complements the unique charm of Osage Beach," said Fred Dehner, the resort's general manager. "We look forward to introducing the brand's distinctive sense of fun and escapism to guests from around the world."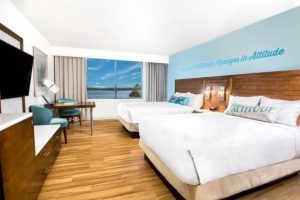 Guestrooms in the Resort Complex have been updated to feature elements of Margaritaville's signature 'casualluxe' design, such as sky-blue walls, offset by warm wood elements with bright accents (pictured left). The exterior of all buildings at the Resort Complex are now a shade of warm sand, accented with white trim, to reflect the lake's peaceful shoreline. Guests also will find enhanced activities and facilities, including a fresh new fleet of gray golf carts for The Oaks golf course and the renaming of Arrowhead Pool and Bear's Den Arcade – now Lakeside Pool and Fin City Arcade, respectively.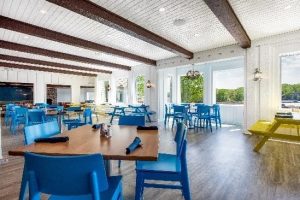 Several signature Margaritaville food and beverage concepts have been introduced at the property and are now open, including:
JB's Boathouse Grill (pictured right)serves breakfast, lunch, dinner, boat drinks and more – featuring classic nautical décor with bright blues and crisp whites.
Frank & Lola's Pizzeriafeatures a cool and comfortable atmosphere and is the perfect spot for guests to grab a fresh pie.
Windrose Marker 26 Lakeside Dining, a resort staple, serves exceptional seafood, steaks and more, with incredible lake views.
The Tiki Hut Pool Bar, a new concept located at the resort's Lakeside Pool, offers light fare and tropical beverages for those enjoying fun in the sun.
LandShark Bar & Grill (opening spring 2019), the new flagship waterfront restaurant, features classics like fish tacos, nachos, wings, crisp salads, boat drinks and signature LandShark burgers.
 Final touches will be completed early next year, including updates to the lobby, marina, water park, bowling alley and more.
The former property, Tan-Tar-A Resort, was acquired in 2017 by Driftwood Acquisitions & Development (DAD) – a privately held investment firm specializing in the acquisition and development of hotel assets – with JV partner Sefira Capital, a Miami-based investment boutique platform that focuses on acquiring and developing commercial real estate. DAD is assisting with the transition.
For more information, visit Tan–Tar–A.com and follow Tan-Tar-A Resort at Facebook.com/TanTarAResort, Twitter @TanTarAResort and Instagram @TanTarAResort.  
About Margaritaville Lake Resort, Lake of the Ozarks
Located along the peaceful shores of the Lake of the Ozarks in Osage Beach, Mo., Margaritaville Lake Resort, Lake of the Ozarks is a 494-room scenic retreat inspired by the lyrics and lifestyle of singer, songwriter and best-selling author Jimmy Buffett. Slated to open in spring 2019, this perfect lakeside escape will transport guests into a vacation state of mind, blending Margaritaville's authentic "no worries" vibe with the area's lake lifestyle. The resort will feature multiple diverse restaurant concepts, a full-service spa and salon, a fitness center, horseback riding, bowling, an arcade, two outdoor pool complexes and a 20,000 square-foot indoor water park. A premier destination for corporate meetings, incentive retreats, social functions and weddings, the resort is home to more than 89,000 square feet of flexible indoor event space, as well as several outdoor venues. Once complete, the resort will officially be a part of Margaritaville's growing collection of hotels and resorts. Today, the global lifestyle brand features 14 lodging locations across the Southeast United States and Caribbean with more than 20 additional locations in the pipeline.
# # #
Media Contacts:
Hemsworth Communications
Kayla Louttit / Hilari Barton
(678) 631-9974 or [email protected]