Make-A-Wish Georgia Wish Kids Crowned Knights of Honor at Medieval Times Atlanta Castle, as Part of "Wish Knight" Program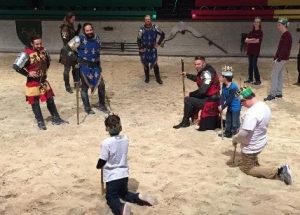 ATLANTA – (DECEMBER 13, 2018) – Five families from Make-A-Wish Georgia were given the royal treatment at Medieval Times Dinner & Tournament's Atlanta Castle Saturday, December 1. Medieval Times Atlanta hosts a "Wish Knight" each quarter, granting wish kids and their families the chance to live like a knight (or queen) for a day.
"We're honored to support Make-A-Wish Georgia and humbled to play a small part in the lives of these families," said Will Philips, general manager of Medieval Times Atlanta. "Seeing these kids smile and have a great time at our castle is one of the best parts of my job. They're as strong as all our knights and queen combined!"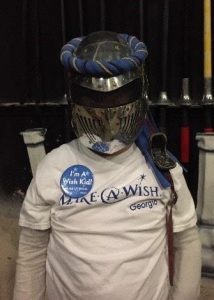 As part of their authentic 11th century adventure, five children were enrolled this week in Junior Knights Training, learning about horsemanship, armory and chivalry from Medieval Times' valiant knights. Families were given tickets to the new Queen-led show, where they feasted on four courses while watching riveting horsemanship and jousting. During the show, one of the Make-a-Wish Georgia children was crowned by Queen Maria Isabella as the tournament victor, to the thunderous applause of all guests.
"Our relationship with Medieval Times Atlanta gives local children facing critical illnesses the chance to let their imagination soar", said Tim Earley, Make-A-Wish Georgia CEO. "Watching the happiness exude from our wish kids' faces  when they become a knight (or queen) is contagious."
For more information or to book your visit to Medieval Times, visit MedievalTimes.com or call 1-888-WE-JOUST. Follow Medieval Times' Atlanta Castle on Facebook at Facebook.com/MedievalTimesATL and Instagram @MedievalTimesATL.
For more information on Make-a-Wish Georgia, visit Georgia.Wish.org.
About Medieval Times Dinner & Tournament
 Medieval Times Dinner & Tournament was founded in 1977 in Spain. It launched in North America in 1983 and has since opened nine castles across the United States and in Toronto, Canada. It has been performed for 65 million guests in its 34 years. Medieval Times Atlanta first opened its doors in 2006 at Sugarloaf Mills in Lawrenceville, Georgia.
 # # #
 MEDIA CONTACT:
Julie Hong or Hilari Barton, Hemsworth Communications
678-631-9974 or [email protected]