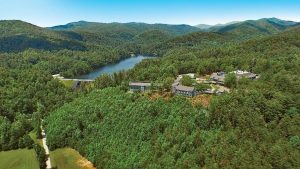 Travelers visiting North Georgia's most popular adventure destination to enjoy newly renovated guestrooms and features 
 ATLANTA – February 27, 2019 – Coral Hospitality-GA, LLC today announced renovations are underway at Unicoi State Park & Lodge, the popular Blue Ridge Mountain retreat in Helen, Ga. All 100 lodge guestrooms will undergo renovations, as well as several of the property's cabins. The first phase of the project is scheduled to be complete by late March, with additional renovations to follow on each of the lodge's main buildings. Full completion is expected in summer 2019.
"We're excited to embark on this much-anticipated makeover of our lodge rooms and cabins this year, elevating our offerings to local residents as well as those who visit us from outside the state of Georgia," said General Manager Bill Mish. "Unicoi is such a wonderful, unique place to visit, and we can't wait to wow our guests with refreshed, more modern accommodations."
New features in the lodge guestrooms will include completely reconfigured bathrooms, new bathtubs, tile, marble and linens. The property also will debut four new suites and upgraded WiFi service in the lodge, as well as updates to 29 cabins, including the famous barrel cabins.
Recently, Unicoi State Park & Lodge also renovated Smith Creek Tavern, a favorite dining venue for travelers and locals alike. Smith Creek Tavern offers guests the perfect spot to grab a bite after a day exploring Unicoi State Park and features an appetizing upscale bar menu. Additions included new tables and chairs, stylish lighting and an entertainment area with space for live music, pool and shuffleboard tables.
Unicoi State Park & Lodge is one of Georgia's most popular state parks. As part of the Adventure Lodge program, Unicoi State Park & Lodge offers a variety of exciting outdoor adventure activities such as Screaming Eagle Aerial Adventures, which features 19 zip lines and several suspension bridges; an archery and air rifle range; paddle boarding; kayaking; fly fishing; GPS scavenger hunts; mountain biking and more.
For reservations at Unicoi State Park & Lodge, visit UnicoiLodge.com or call 1-800-5739659. For additional information about Coral Hospitality, visit CoralHospitality.com or call 239-449-1800.
About Unicoi State Park & Lodge
Located in the Blue Ridge Mountains of Helen, Ga., Unicoi State Park & Lodge is one of two Adventure Lodges of Georgia. Unicoi State Park is home to more than a 1,000-acres of adventure activities, including Unicoi Lake, hiking trails, Anna Ruby Falls, ziplines, fly fishing, an archery and air rifle range, and mountain biking. Accommodations consist of an expansive 100-room main lodge, 30 cabins – including one-of-a-kind barrel cabins – and 82 campsites.  Unicoi State Park & Lodge is managed by Coral Hospitality, a full-service hospitality management and investment company.
 About Coral Hospitality
Founded in 1999, Coral Hospitality is a full-service hospitality management and investment company with three distinctive divisions – Coral Hotels & Resorts, Coral Golf & Country Clubs and Coral Residences & Associations.   A market leader that delivers unparalleled service to guests and generates exceptional financial results for clients and investors, Coral takes a unique, full-service approach to the management of its portfolio of hotels, resorts, golf clubs, residences and spas.  As a result, Coral is consistently ranked in Top 5 in REVPAR growth among independent management companies. Coral Hospitality…leveraging powerful, world-class partnerships to create experiences that innovate and inspire.
###
Media Contact:  
Hilari Barton / Julie Hong, Hemsworth Communications
678-631-9974 or [email protected]