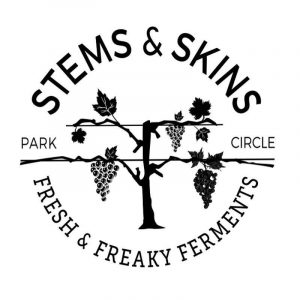 New chef, formally of FIG, to drive culinary program at popular Park Circle destination 
CHARLESTON, SC (October 7, 2020) – Approaching its five-year anniversary in Park Circle, James Beard Foundation semi-finalist Stems & Skins today announced the appointment of Julian Lippe as head chef. With 14 years of professional cooking experience, including spending the past two years at FIG, Lippe will drive the Mediterranean-inspired culinary program with a simple, yet technique-driven menu.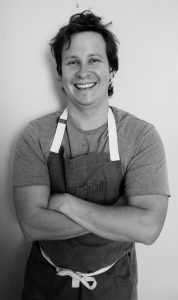 "My inspiration for the menu at Stems & Skins is driven by seasonal produce and fresh seafood. The size of our current restaurant allows me to be very flexible, leading to almost daily trips to local markets or seafood purveyors," said Lippe. "I am fortunate to have worked with incredible chefs over the past several years, who continue to serve as inspiration to me. Whenever I am working on a dish, I usually have one – if not all – of those chefs in the back of my mind." 
Lippe moved to Charleston in 2018 to work as a line cook at FIG under celebrated chef Jason Stanhope. Previously, Lippe worked as a line cook with Vernick Food & Drink and a sous chef with Table 95 Restaurant Group in Philadelphia, Penn. A graduate of Florida State University, Lippe holds a degree in Food and Beverage Management. 
"From our natural wines and classic cocktails to our dining menu, we've always been focused on quality," said Matt Tunstall, Co-Owner of Stems & Skins. "Now with the addition of Julian, we can really take our culinary program to the next level. Guests can expect a more well-rounded dining experience, from our assortment of vegetable-centric dishes to daily changing crudo from Abundant Seafood, handmade pasta and more." 
Stems & Skins will continue to offer its signature tinned seafood menu, as well as charcuterie and cheese. In addition,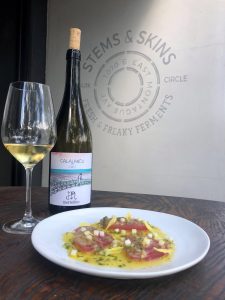 Stems & Skins has refreshed its beverage menu with new wines, beers from around the world, classic cocktails, as well as new vermouth, wine and cocktail options on tap. 
The Park Circle restaurant is excited to also announce two new events taking place this fall – "French Fries & Champagne" on Saturday, October 17, and "Lobster & Chenin Blanc" on Saturday, December 5. Stay tuned for more details. 
Stems & Skins is open daily from 4 p.m. to 11 p.m. Guests are required to wear a face covering when entering, exiting and walking through the restaurant. Indoor tables are spaced out accordingly to social distancing guidelines, and outdoor dining is available as well. Tinned seafood and wines are also available for purchase online.
For more information, please visit www.stemsandskins.com. Follow Stems & Skins on Instagram at @stemsandskins.
ABOUT STEMS & SKINS
Recognized by the James Beard Foundation in its "Outstanding Wine Program" category, Stems & Skins is a neighborhood bar and dining destination in North Charleston's thriving Park Circle area. The restaurant serves natural wines, classic cocktails and beer from around the world, in addition to a nightly selection of charcuterie and cheese, Mediterranean-inspired small plates, and more. Since opening in January 2016, Stems & Skins has received national praise in Bon Appetit, the Wall Street Journal, Wine & Spirits and Food & Wine.
###
Media Contact:
Lacey Outten / Hemsworth Communications
864-918-1089 / [email protected]
This message was sent to [email protected].
Hemsworth Communications
1510 SE 17th Street, Suite 200A
Fort Lauderdale, FL 33316