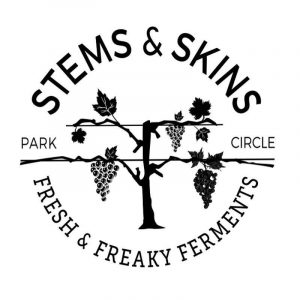 New Chef, Greg Marks, to drive culinary refresh at popular North Charleston wine bar
 CHARLESTON, SC (Tuesday, October 9) – North Charleston's neighborhood wine bar Stems​ & Skins today announced the appointment of Greg Marks as chef, responsible for the introduction of a new food menu. In his role, a newly created one at the Park Circle establishment, Marks will incorporate more local products and produce with new technique-driven menu items.
 "As an intimate and focused wine bar, our kitchen space is small, but I believe limitations spark creativity and innovation. For now, our guests can expect unique vegetable plates to be a mainstay, while I explore ways to add dishes that are a bit more substantial" explains Marks. "In addition to the menu possibilities here, I'm very excited about the people here at Stems. From the small, tight staff with a high level of knowledge, passion and professionalism, to the loyal guests and new visitors, there will be many opportunities to talk about food."
 A native of Madison, WI, Marks moved to Charleston in 2008. For five years, he worked under Frank Lee and Russ Moore at Slightly North of Broad, earning the position of sous chef. Next, Marks served as sous chef for the original Butcher and Bee, where he played an instrumental role in menu development for both lunch and late-night, helping push the young restaurant forward to success. Marks also worked as sous chef at The Daily upon opening, as well as Edmund's Oast, Pancito & Lefty and EVO.
 "Greg is a focused chef with a fresh perspective and enthusiastic approach," said Stems & Skins Owner Justin Croxall. "We were immediately hooked on his food, and we are very excited to bring a more chef-driven menu to our regulars and new guests, as we take Stems & Skins to the next level."
 Some highlights from Marks' fall menu include a fermented and pickled plate; Shrimp Campanelle with Iberico Ham broth; Usinger's Bratwurst with house fermented sauerkraut and beer mustard; grilled squash with polenta and onion soubise; and warm fingerling potatoes with sauce gribiche and chives. Stems & Skins will continue to offer its signature tinned seafood menu, as well as charcuterie and cheese.
For more information, please visit www.stemsandskins.com​ . Follow Stems & Skins on Instagram at @stemsandskins.​
 ABOUT STEMS & SKINS
Located in North Charleston's thriving Park Circle area, Stems & Skins is a neighborhood bar serving natural wines, classic cocktails, vermouth and traditionally-styled beer. Dinner nightly consists of wine-friendly fare with a Mediterranean twist, tinned seafood, and a selection of charcuterie and cheese. Opening nightly at 4pm with Aperitivo and serving up fun vibes, great tunes and late night food. Since opening in January 2016, Stems & Skins has received national praise in Food & WIne Magazine​, The Wall Street Journal​ ​, Bon Appetit, Wine & Spirits Magazine​ ​ and Coastal Living.​
 ###
Media Contact: 
Lacey Outten / Hemsworth Communications
864-918-1089 / [email protected]​