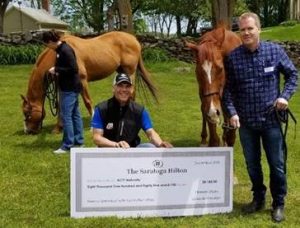 Proceeds from Hotel's Annual "Breakfast with Santa" to Benefit Retired Thoroughbreds and Community Programs
SARATOGA SPRINGS, N.Y. – June 18, 2019 – The Saratoga Hilton today announced that its 2018 "Breakfast with Santa" raised $8,185 to benefit ACTT Naturally, a local organization dedicated to transitioning retired Thoroughbreds into new careers. Underscoring their dedication to supporting local causes, Thomas Olsen, the hotel's general manager, recently presented Valerie Buck, founder of ACTT Naturally and volunteer Bill Nizolek, with a donation check.
"The Saratoga Hilton is committed to supporting organizations doing good work within our local community and the greater Saratoga County," said Olsen. "Horse racing is such an integral part of our lifestyle here, and we are truly proud to contribute to the good work ACTT Naturally is doing to rehabilitate and rehome these prized racehorses."
ACTT Naturally works to transition Thoroughbreds from racing to new productive careers using the gentle techniques of natural horsemanship. Through programs, ACTT Naturally engages the horse human bond, facilitating mutual growth and positive transformation. The organization has equine assisted programs for veterans and first responders to help reduce anxiety and increase confidence through their program Hearts in Harmony and instills leadership qualities in the local youth through their Teen Leadership program.
 For more information on The Saratoga Hilton, visit www.thesaratogahotel.com or call (518) 584-4000.  Follow The Saratoga Hilton on Facebook, Instagram, and Twitter.
About The Saratoga Hilton
Contemporary style meets distinguished tradition at The Saratoga Hilton. The Saratoga Hilton exudes a fresh feel in the heart of the downtown scene, setting the standard for full-service hotels in Saratoga Springs, New York. Connected to the Saratoga Springs City Center and just minutes from the Saratoga Racecourse, The Saratoga Hilton puts guests in the middle of the action while allowing them to enjoy the comfort of modern rooms and suites, a restaurant and bar, an indoor pool, and fitness center. For more information or for reservations, please visit www.thesaratogahotel.com or call (518) 584-4000.
About Hilton Hotels & Resorts
For 100 years, Hilton Hotels & Resorts has set the benchmark for hospitality around the world, providing new product innovations and services to meet guests' evolving needs. With more than 585 hotels across six continents, Hilton Hotels & Resorts properties are located in the world's most sought-after destinations for guests who know that where they stay matters. Hilton Honors members who book directly through preferred Hilton channels have access to instant benefits. Begin your journey at www.hilton.com, and learn more by visiting newsroom.hilton.com/hhr and following Hilton Hotels & Resorts on Facebook, Twitter, and Instagram.
###
This message was sent to [email protected]
Hemsworth Communications
1510 SE 17th Street, Suite 200A
Fort Lauderdale, FL 33316
Media Contact:
Krysteal Godfrey, Hemsworth Communications
954-716-7614 / [email protected]